I am pleased to announce a brand new Top Christian Songs List on "Daily Christian Devotionals". Currently, there are 64 songs and that list is being updated each week. Just click on the different pages to view the different songs. After playing that song, it will automatically play the next song on the list. Please visit the page and let me know your thoughts. And if you don't see your favorite Christian song, then please comment about that song on the page, so I can review it and then possibly add it in the near future. Thanks and God bless you all.
The Link to the page is below:
You can access it via the Worship Menu > Christian Music.

Click on the Top Christian Music Icon: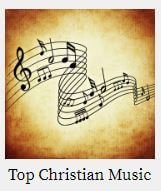 Here is a screenshot of what it looks like…